'With Love From The Curator' is a squalling babe, pink and unknown, beating all the odds against its own existence. This collection of 23 new poems journeys through landscapes of love, death, infertility and museums, both real and imagined across the world, telling the quiet story of a couple fighting their own battle against the odds.
THE AUTHOR
Oak Ayling is a Pushcart Prize nominated Cornish poet and closet librarian. 'With Love from the Curator' is her debut pamphlet, released through Indigo Dreams Publishing. Oak's other works can be found in various literary magazines and in print anthologies 'For the Silent' from Indigo Dreams Publishing & 'Light Through the Mist' from author Helen Cox.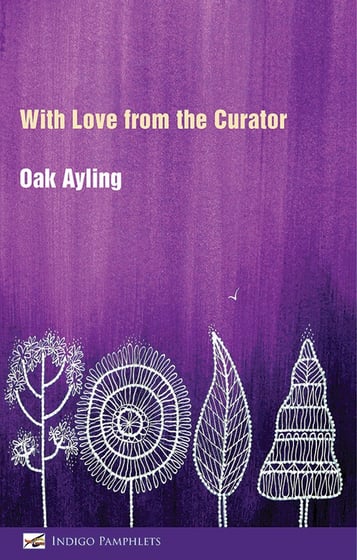 ISBN 978-1-
912876-45-7
Paperback
32 pages
£6.00 +P&P
Oak Ayling
With Love from the Curator
"Mr Finch is down the hall making his dead birds
I study the architecture blindly
Unseen, a small child mounts the back of a rhino"
from Natural History
Address
Indigo Dreams Publishing Ltd., 24, Forest Houses, Halwill, Beaworthy, Devon EX21 5UU
Contact
GENERAL ENQUIRIES & REACH POETRY indigodreamspublishing@gmail.com
THE DAWNTREADER & SARASVATI dawnidp@gmail.com
NEWSLETTER newsletter@indigodreams.co.uk
Please contact by email or post only. We ask you to refrain from emailing at a weekend or when the office is closed for annual leave. Closure dates will be posted on the website as needed.
Subscribe to our newsletter
Please send all articles for inclusion to: newsletter@indigodreams.co.uk