'Set 1400 feet up in the Lowther Hills of southern Scotland, in a landscape scarred by the footprint of industry, The Curfew Bell clangs a warning—a baby born too early against a desolate backdrop bleak and snowy, amongst baaing sheep and remnants of leadmining works and grouse moors—a place of vanished villages and endless valleys, of motherhood and survival.
THE AUTHOR
Karen Jane Cannon is a UK poet and author. Her debut Emergency Mints was published by Paper Swans Press in 2018. She was shortlisted for The Bridport Prize in 2019, a finalist in the Mslexia Poetry Competition in 2017 and was commended for The Flambard Prize in 2014. Karen is a PhD candidate at the University of Southampton and lives in the New Forest, Hampshire.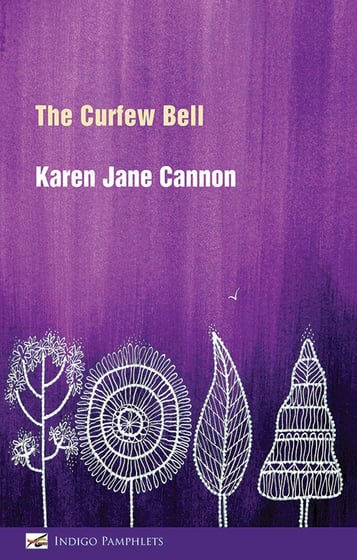 ISBN 978-1-
912876-48-8
Paperback
28 pages
£6.00 +P&P
Karen Jane Cannon
The Curfew Bell
"From the ambulance I see the Curfew Bell,
a triangular frame arching skyward into prayer-hands.
In its belly the curved iron bell."
Address
Indigo Dreams Publishing Ltd., 24, Forest Houses, Halwill, Beaworthy, Devon EX21 5UU
Contact
GENERAL ENQUIRIES & REACH POETRY indigodreamspublishing@gmail.com
THE DAWNTREADER & SARASVATI dawnidp@gmail.com
NEWSLETTER newsletter@indigodreams.co.uk
Please contact by email or post only. We ask you to refrain from emailing at a weekend or when the office is closed for annual leave. Closure dates will be posted on the website as needed.
Subscribe to our newsletter
Please send all articles for inclusion to: newsletter@indigodreams.co.uk